Removing the exhaust system was high up on the list of to-do's. The PO mentioned that the right baffle seemed to have an issue. I didn't realize how big of an issue it was until I started taking things apart. I figured a good cleaning of carbon deposits would be in order, but it turned out to be oh so much more.
First things first, there is a retaining screw at the rear of each pipe that holds the baffle in. Removing each screw and washer lets you pull the baffle right out.
With the retaining screw removed, you can grab the pull bar on the baffle with your fingers or some needle nosed pliers and gently remove the full baffle for cleaning.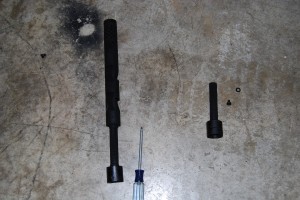 Here you can see the two removed baffles. One is not like the other. The left baffle is in need of a cleaning, but is otherwise intact.  The right baffle was split in two at the profile change section. The rest of the baffle is wedged back inside the pipe, and it appears that the hole through which it would normally fit is warped. So, for now, there's no repairing that baffle. May need to investigate using a rigged up dent puller  to free that piece of baffle and look into getting another, but more than likely I'll get another set of pipes that more complements the cafe-look.
Each exhaust pipe connects to the engine via a header pipe and a flange. The flanges fit over two studs and are secured in place via nuts. Removing the nuts (and, in 3/4 of the instances for me, the studs too) allows for the flange to be pulled free. Take note that the flanges have a small lip on one side, which should fit against the engine. The pictures above should illustrate the flange removal adequately.
Once the pipes are disconnected from the engine, it's a simple matter of removing the two bolts that hold them to the frame. The front bolt is accessible from below. The rear bolt is located under the pillion footrest (which does not have to be removed to get the bolt and it's retaining nut out). There is a rubber bushing the rear bolt fits in to. With the bolts removed you can rotate the pipes to remove them from the frame.
I'm thinking I'll upgrade to something like the DG Expansion Chamber pipes, available from Economy Cycle or Ebay. I think they look great on the RDs.